Introduction
Anyone wishing to improve their bank managing abilities and gain knowledge about the banking sector should use online business simulation. It is ideal for a novice wishing to learn the fundamentals or those looking to increase their comfort level with managing a bank branch.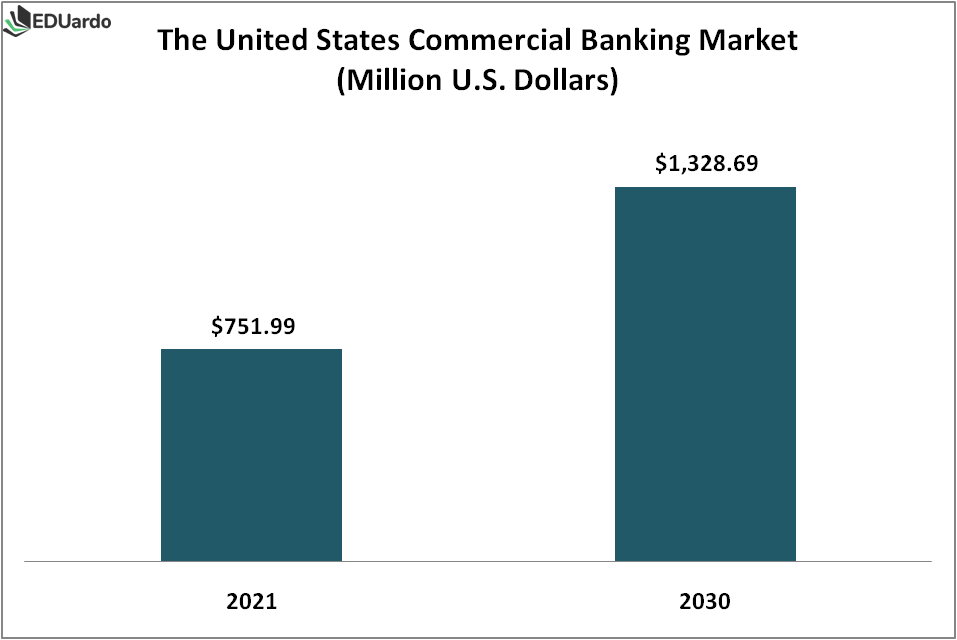 According to a Verified Market Research study, the US Commercial Banking Market would increase at a CAGR of 8.47% from 2023 to 2030, from a market size of USD 751.99 million in 2021 to USD 1,328.69 million in 2030.
This study entails the scope of the banking sector in the future. However, this might not be very surprising. In this blog, we have covered how business simulation helps to manage a bank branch for its overall success.
But first let us understand what a business simulation means?
What Is Business Simulation?
A business simulation is software for developing situations in leadership development training that are very engaging, practical, and useful to the workplace. In the past, they were both computer- and paper-based, but today, most simulations are digital. To maximize the process, business simulations are integrated with on-site, leader-led facilitation.
Business simulations can be pre-built or customized to the particular company's requirements. Business simulations integrate strategic objectives with learning objectives and are used as a tool to cultivate practical abilities and ways of thinking in order to advance management knowledge and abilities.
How Business Simulation Can Be Used To Manage A Bank Branch?
The banking and business topics that participants will learn from the office management simulation are listed below. But it is not exhaustive.
Oversee operational activities and discover answers to those operational problems.
Organize and supervise the collection of accounting and financial data.
Prepare reports, budgets, and statutory returns.
Maintain a high standard of customer service.
Keep an eye on sales targets, and promote and market the company and its products.
Meet with clients to address issues or complaints. They guarantee excellent customer service, keep an eye on sales goals, and submit reports to head office.
Oversee the operation of one, two, or more branches and maintain the training and motivation of their workers.
Make sure the new employees have the necessary training and are ready to provide consumers with useful services.
Ensure the administrative activities are coordinated.
Make sure the sales and marketing personnel are trained on how to provide financial reports for the HQ office.
What Skills Are Required To Manage A Bank Branch
It takes a blend of technical expertise, interpersonal skills, and leadership qualities to manage a bank branch.
The following skills are necessary for managing a bank branch:
Financial acumen:
Financial fundamentals including accounting, budgeting, and financial analysis must be thoroughly understood by bank branch managers. They must be proficient in reading and interpreting financial statements and well-versed in compliance guidelines and banking rules.
Marketing and sales abilities:
Managers of bank branches should be able to create and implement sales and marketing plans to draw in new clients and keep hold of current ones. They ought to have the ability to recognise client demands and make recommendations for goods and services that address those needs.
Customer service skills:
Managers of bank branches should be able to respond quickly and effectively to customer complaints and difficulties while providing exceptional customer service. They should be able to establish and maintain solid bonds with both the local community and customers.
Effective leadership:
Managers of bank branches should have the ability to inspire and lead a group of workers by establishing goals and objectives, offering coaching and feedback, and fostering a healthy work environment.
Communication skills:
Managers of bank branches should be proficient in writing and verbal communication. They should be adept at presenting presentations and facilitating meetings, and they should be able to communicate clearly with clients, staff members, and senior management.
Problem-solving skills:
Managers of bank branches should have the ability to recognize issues and take swift, effective action to address them.
Overall, running a bank branch demands a blend of leadership qualities, interpersonal skills, and technical expertise. A competent bank branch manager should be able to strike a balance between the demands of the organization, the staff, and the customers while staying focused on attaining organizational goals and objectives.
EDUardo Office Management: Banking
In the Office Management-Banking module of EDUardo, users will learn the management of a commercial bank branch.
Learn to lead a team while meeting high-performance standards by balancing financial performance with indications of client and staff happiness.
Users will be managing a branch with a dozen workers with various abilities, levels of motivation, and preferences. They will need to comprehend a variety of branch performance reports to decide on the work priorities, sales activities, and product priorities for their team.
Through meetings and individual performance goals, users can train and inspire their workers using this bank simulation. To make sure the branch meets its predetermined goals, the users will even have the option of switching out the team members.
But, users need to be careful not to fall into the trap of micromanagement. This module teaches how to lead a team under demanding performance expectations while maintaining a healthy balance between financial performance, client satisfaction, and employee satisfaction.
By the end of this module, users will have developed valuable skills in office management, leadership, and banking. Users can apply these skills in their current or future workplace, enabling them to lead teams effectively and achieve success in their careers.
To find more information, visit edu-simulation.com!
Conclusion
It is very obvious that not everyone is suited for a career as a bank manager. Bankers must make many sacrifices and give a lot in return, despite the financial benefits being a rather alluring carrot. Bank simulations are quite important for reducing their workload and assisting them in achieving the success of the branch.
Bank employees need an education that is more in line with modern trends. EDUardo Business Simulation can help with that. By replicating realistic markets with live input, our simulation helps our users understand ideas. Testing various financial and non-financial data displayed in color-coded charts and graphs will test the user's managerial abilities. Why then wait? Join right away!
Frequently Asked Questions
What simulation is used in finance?
Monte Carlo Simulation is a statistical technique used in financial modelling. A mathematical method called Monte Carlo Simulation, commonly called the multiple probability simulation, is used to predict the likely outcomes of an uncertain event. For simulation to produce numerical results, random samples must be repeated.
How is AI used in banking?
Because of artificial intelligence in financial services, banks can process huge amounts of data. They can even forecast the most recent market movements, currencies, and equities. Modern machine learning methods offer investment suggestions and assist in evaluating market sentiment.
How can business simulation be used for management training?
In management training, simulation is a useful tool to assist learners in understanding and putting key ideas and concepts into practice. They can better grasp how businesses work and make decisions by mimicking real-world circumstances. This will help them to manage the office branch smoothly.