Introduction
Working well with people is essential for success in any position, whether you're the CEO, an intern, or a new manager. Whether you're a new or experienced manager, you may master people management skills, which ease management by supervising and growing your direct reports.
While it takes time to perfect these abilities, you can start to enhance your people management skills immediately. The professionals in managing people and the human aspect of the organization should be in human resources. But people management is more than the responsibility of the HR division.
In today's article, we focus on the potential benefits of using business simulation to improve people management abilities. Let's get going!
What Does People Management Mean?
People management, also known as personnel management or human resource management (HRM), refers to the practice of effectively overseeing and coordinating the activities related to an organization's workforce. It involves the strategic management of employees to optimize their performance, well-being, and contribution to the organization's goals.
The primary focus of people management is on attracting, developing, and retaining a talented and motivated workforce. The administration of people in departments is the responsibility of managers, though other departments may assist depending on the organizational structure of the company.
For instance, a chief of staff will be more concerned with people management issues than department heads with the work output. Of course, these tasks overlap, and for influential people management to take place, both the project and the people's sides must run.
In the field of people management, the human resources division performs the role of a subject matter expert. They can be a resource for managers and those who protect the interests of all employees. Because of this, the HR department sees learning and development as essential functions.
To support the success of the individuals, they construct succession plans and provide job descriptions. When it comes to managing employees, compensation is also quite important.
Essential Skills For People Management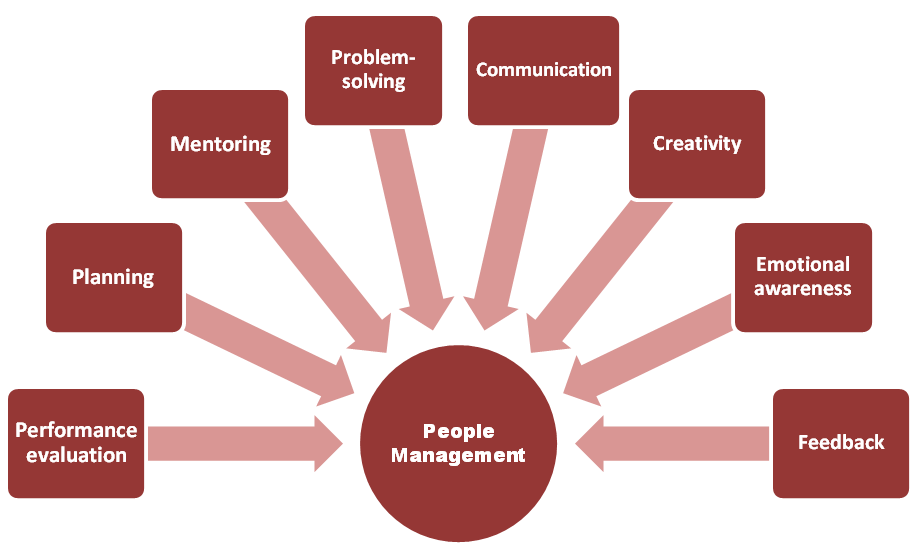 Evaluating performance
Managers need to understand how to test an employee's performance based on results rather than their presence on the job. For some supervisors, this can be a change.
Planning
Although it may seem challenging to plan in this quickly shifting environment, managers must prepare for a variety of potential outcomes when managing people. This will be crucial in the following years.
Mentoring
The majority of workers desire to advance in their professions and will value a manager who invests the time to coach them and support their success.
Problem-solving
Companies should know how to telecommute, rearrange industrial floors, and adhere to evolving government health laws. In the future, this will be a crucial people management ability. These quick transitions won't stop.
Solving problems is an essential people management ability, even in more sedate times. Besides dealing with project-related issues, you must also collaborate with staff members to find solutions.
Communication
This ability is always at the top of the list for managing people. It can make a difference in whether your staff is supportive or rebellious to clearly communicate important information to your employees.
Creativity
To be creative, you don't have to paint or play the piano. Problem-solving, solution-finding, the development of new products, and the facilitation of feedback are all examples of creativity. Again, as the second year of a global pandemic approaches, influential people managers will continue to come up with original answers to the problems at hand.
Emotional awareness
When people are pushed to their limits, an emotionally intelligent people manager looks for solutions. A person with vital emotional intelligence is also aware of their own limitations and seeks out opportunities to improve. The ability to collaborate in the workplace requires emotional intelligence, which will remain a crucial trait.
Feedback
Managers must provide both positive and negative feedback to manage their teams effectively. If management permits a worker to commit the same error again, it may harm the reputation of the business or alienate other workers.
Employees will become resentful if a manager disregards their accomplishments. Accurate, considerate, and timely feedback is a must for good people managers.
The interactive business simulations offered by EDUardo are a creative and exciting method to educate business principles.
You get a real learning experience that improves information transfer and boosts motivation in a safe-to-fail setting thanks to its practical use case method and accessible content parts.
You are given the knowledge and skills necessary to appreciate the difficulties involved in organizing and leading a project team via the people management course package.
You can also develop your leadership skills by managing a team of workers in an office environment. You will get knowledge on how to run your virtual office to meet sales goals, increase customer happiness, and develop a team of motivated employees.
The people management learning package consists of three different modules:
Leadership and project management
Office management- banking
Office management- telecom
In the simulation-based interactive case studies, manage your virtual teams. You will be helped to apply the theoretical information by using a simulation during the learning process, which will improve your comprehension of the focus areas.
All learning case studies are created to provide people management information that is founded in practice. Video resources are provided to go along with the simulated exercise.
Furthermore, you can search the knowledge base to find helpful learning resources to help you gain a deeper understanding of a subject.
Conclusion
For your staff to be engaged, retained, and developed, good people management is essential. Human Resources, who are supposed to be the business's go-to people experts, are crucial to the success of the company since they give advice, direction, and training to those in charge of managing people on a daily basis.
Learning how to manage people effectively can benefit greatly from business simulation. To assist you with that, try EDUardo Business Simulation. Its practical use case method and easily accessible material components give students a realistic learning experience that improves information retention and boosts motivation in a setting where failure is safe.
Frequently Asked Questions
What is people management?
The practice of managing employees' daily operations and overseeing their development, motivation, and training is known as people management. Managers are typically in charge of personnel management in their departments.
Why is people management critical?
A poorly managed team can have a detrimental impact on many different parts of your organization. In contrast, a well-managed team can boost employee morale, increase productivity, and provide your business with a competitive edge.
What are the five c's of people management?
Clarity, context, consistency, courage, and commitment are the five categories that best describe people management. All five categories start with the letter "c."
What are the essential people management skills?
Planning, mentoring, problem-solving, communicating, providing and receiving criticism, creativity, understanding stakeholders, and emotional intelligence are among the abilities required for effective people management.